Homecoming is the perfect time to show your school spirit and let your colors shine! For the guys the Homecoming garter is a great way to show your spirit. The garter is worn on your bicep with streamers hanging down. It is adorned with festive charms to shout out to everyone what you're into at school. Simple and small or as big as Texas itself, we can make your garter the most memorable around!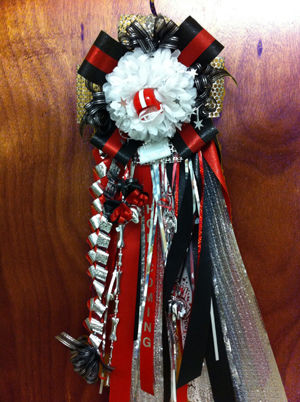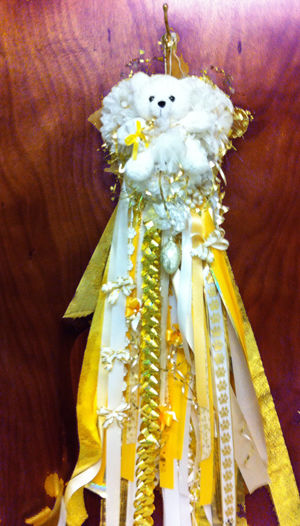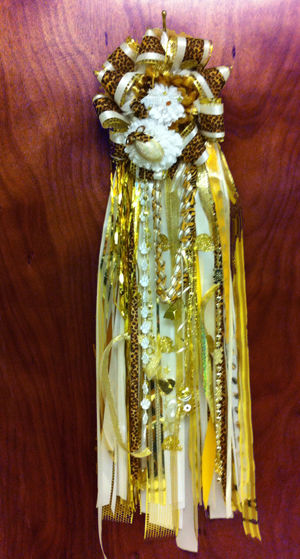 For girls in Texas, bigger is always better. Single, double and triple mums are designed with either bears or charms in the mum, as well as layer upon layer of streamers, braids, and school ribbons to add a uniqueness to each one. Homecoming Mums are created in school colors and represent all the fantastic things you are involved in. Add as many charms and ribbons as you can think of to make YOUR mum stand out in the crowd. We can also design your mum in a variety of colors to match your outfit or personality. It's all about customizing your Mum to represent you and all your uniqueness.
Because every Mum is unique and made just for you, it's hard to make the purchase online. Please call us at 713-277-3367 or visit one of our three locations to discuss your perfect Homecoming mum and/or garter.
Don't forget about the Homecoming dance! Breen's Florist has corsages and boutonnieres to add sparkle to your evening.