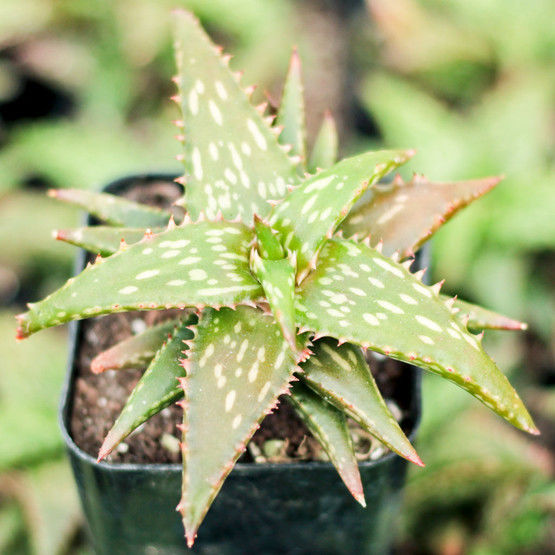 ALOE JUCUNDA
LIGHT
Your Aloe plant prefers bright indirect light to full sun. Insufficient light will cause the leaves to droop downwards. If you don't have a location with ideal lighting for your plant, use a grow light.
WATER
Water your Aloe when the volume of soil is 100% dry. Water thoroughly until it flows out of the drainage hole. Discard excess water to discourage root rot.
HUMIDITY
This plant does not require any extra humidity and can handle dry air.
TEMPERATURE
Your Aloe will do just fine in average room temperatures, between 65-75 degrees.
FOOD
Feed once in the spring and once in the summer with a liquid fertilizer for cacti and succulents.
TOXICITY
Aloes are considered to be toxic to pets.
ADDITIONAL CARE
If you place your plant in the full sun during the late spring and summer, it will most likely reward you with pink blooms. When placed outdoors, it will require a bit more water. Look out for wilting leaves – this is a result of inadequate water. Your Aloe plant is sensitive to overwatering. Soft, mushy, or brown leaves indicate your plant my be suffering from root rot.